14 jaw-dropping Australian natural attractions
Sometimes we don't appreciate what we have in our own backyard.
This is despite the plethora of astounding natural attractions that are sprinkled all over the country.
Some of these fascinating wonders wouldn't be out of place on another planet. Others are so ridiculously beautiful, you could stare at them all day.
It's time to celebrate Mother Nature's brilliance with this collection of mind-boggling natural attractions.
Sea cliffs, Tasman National Park, TAS
The enormous dolerite sea cliffs found at the bottom of the Tasman Peninsula are simply gob-smacking. Measuring up to 300m in height, these jutted creations are perfectly suited to the rugged, almost unworldly coastal surrounds. These are the southern hemisphere's highest sea cliffs, and for the daring they are an abseilers' mecca. For the rest of us, simply stare in amazement at what is hands down among the best attractions in Tasmania.
Visit on a daytrip from…BIG4 Hobart Airport Tourist Park.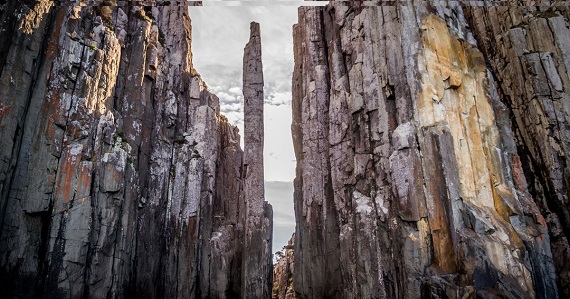 The enormous sea cliffs in Tasman National Park are sure to astound you.
Umpherston Sinkhole, Mt Gambier, SA
The word 'sinkhole' seems to be all the rage these days but this mighty marvel was formed well before the term became fashionable. Once a limestone cave, the sinkhole is the result of corrosion from seawater that led to the cave's roof collapsing. It's since been transformed into a stunning sunken garden – not so natural, but hey – that you can admire day and night. Even more appealing is the sinkhole's proximity to the Mt Gambier CBD.
Visit when staying at…BIG4 Blue Lake Holiday Park.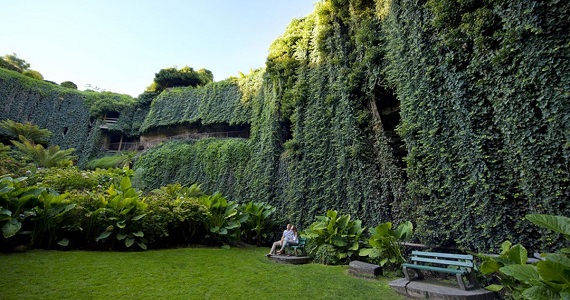 The Umpherston Sinkhole was once a limestone cave, but is now a surprisingly beautiful sunken garden.
The Pinnacles, Nambung National Park, WA
Prepare to encounter a scene widely regarded as being better suited to Mars. The Pinnacles is a mammoth collection of weathered limestone pillars that protrudes from desert-like surrounds and makes for an awe-inspiring sight. Adding to the peculiarity of the occasion is knowing just how close to the ocean you are – yet you'll likely feel as far removed from water as you will from earth as you know it. Fascinating.
Visit on a daytrip from…BIG4 Ledge Point Holiday Park.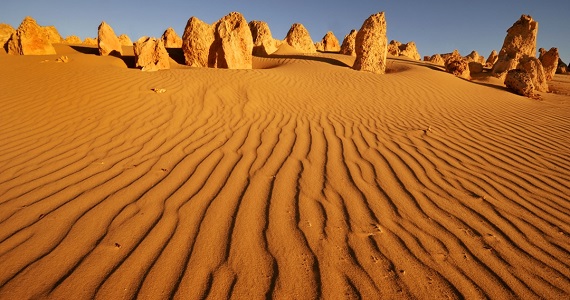 Stand amongst the limestone pillars that are the Pinnacles and you'll feel as though you could be anywhere.
Grampians National Park, VIC
The Grampians receives loads of footprints each year, yet pay a visit to it and you're likely to feel that still, somehow, this area is vastly underrated. Sure, there are tourists around but it's easy to opine that the area should be swarming with them. Best not to wonder too long and instead enjoy the spine-tingling experience of standing directly underneath or atop the craggy, towering sandstone mountain ranges. The Grampians thoroughly deserves to be regarded as one of the best national parks in Australia.
Visit when staying at…BIG4 NRMA Halls Gap Holiday Park.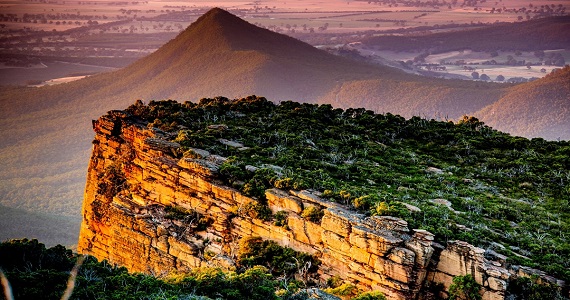 Undara Lava Tubes, Undara Volcanic National Park, QLD
Once there was furious volcanic activity, now there is a series of remarkable tunnels and caves to explore. Lauded as among the largest and longest lava tubes on the globe, Undara is the result of volcanic spew that was generated almost 200,000 years ago. Lots and lots of spew. And vomit has never been so enticing: the results of this ancient fury is so captivating and intrinsic that it's sure to feature prominently on your Instagram account.
Visit on a daytrip from…BIG4 NRMA Atherton Tablelands Holiday Park.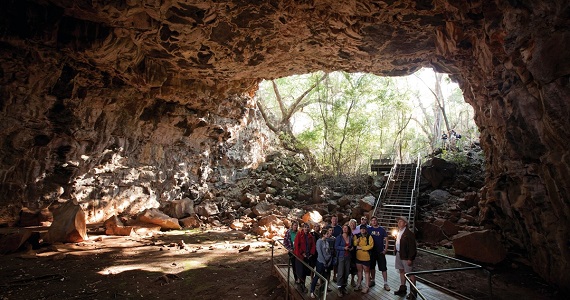 The Undara Lava Tubes experience is sure to provide some Instagram-worthy moments.
Bungle Bungles, Purnululu National Park, WA
When it comes to Australia's most jaw-dropping attractions, the Bungle Bungles consistently earn a podium finish. This Kimberley icon consists of a cluster of beehive-like, cone-shaped towers that are simply dazzling, particularly when witnessed from the air. Found 290km south of Kununurra, this World Heritage wonder is colourful, spectacular, and absolute bucket-list material.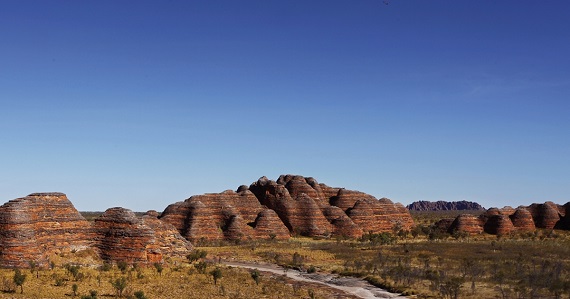 Whether witnessed by air or by foot, the Bungle Bungles are spectacular.
Stromatolites of Hamelin Pool, Shark Bay, WA
Stromatolites. Heard of them? Google the definition and you'll find a description most of us won't understand. All you really need to know is that stromatolites are regarded as living fossils; those at World Heritage-listed Shark Bay are regarded as the oldest and largest of their type; and they are amazing to look at. This funky photo subject is 225km south of Carnarvon and roughly 300km north of Geraldton.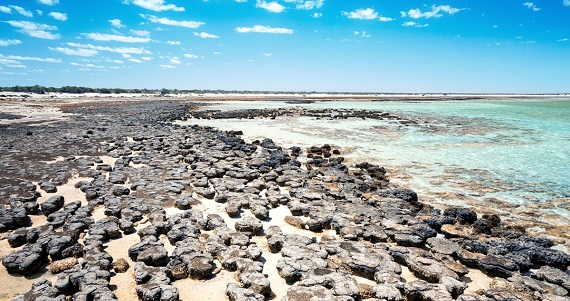 You may not have heard of stromatolites, but they're sure to amaze you when you see them.
Kata-Tjuta, Uluru- Kata-Tjuta National Park, NT
Move over, Uluru. We're shining the spotlight on your less-hyped neighbour. Kata-Tjuta – also known as the Olgas – is a gathering of giant red sandstone domes that dominate the surrounding arid landscape. Thought to have once been a single rock, these three dozen domes make for some damn fine photo ops. And, interestingly, the highest point of Kata-Tjuta – Mt Olga – reaches a height of 546m above ground, making it roughly 200m higher than Uluru.
Visit on a daytrip from…BIG4 MacDonnell Range Holiday Park.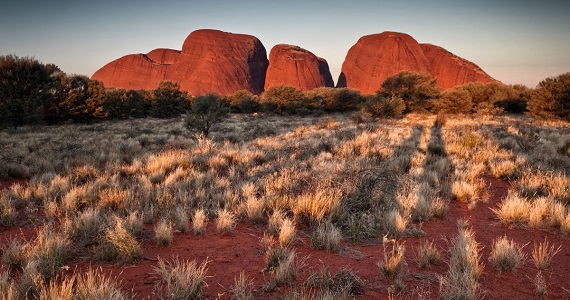 Snap a quintessential Aussie photo at Kata-Tjuta.
Wilpena Pound, Flinders Ranges, SA
How did that happen? is what you'll find yourself thinking when viewing this incredible attraction. The most notable landmark in the famous Flinders Ranges, Wilpena Pound is a huge, sunken natural amphitheatre of such remarkable beauty that you can't help but be astounded by it. Viewing it on a scenic flight and taking in the richness of the landscape's colours is just about unbeatable.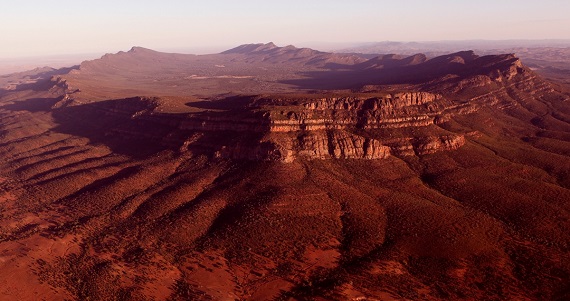 A scenic flight is one of the best ways to view the amazing Wilpena Pound.
Australia's pink lakes, various locations
We couldn't just settle on one Australian lake to feature but we did narrow it down to a type: the pretty-in-pink lakes dotted around the country. These bright beauties easily rank among Australia's best natural attractions. Pink Lake near Esperance in South West WA and Lake Hillier in the same pocket of the state are key examples, while the Pink Lakes of Murray-Sunset National Park in northwest Victoria are also outstanding.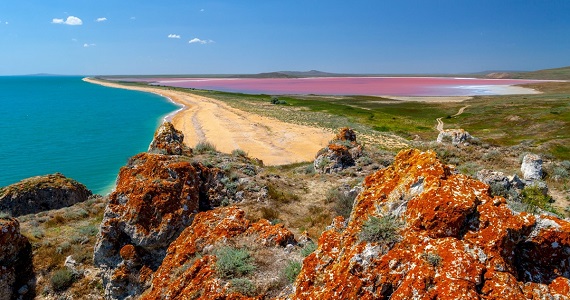 There are a range of pink lakes across Australia, but this one near Esperance in WA is particularly stunning.
Kings Canyon, Watarrka National Park, NT
Wow. Just wow. The towering sandstone walls of Kings Canyon are quite simply astonishing. These walls contrast jaggedness with smoothness, all brightly coloured and beautiful and demanding more clicks of the camera than your average celebrity. Planted 470km from Alice Springs on sealed roads, this top attraction rewards whether you're peering upwards or taking in all its glory on a rim walk.
Visit on a daytrip from…BIG4 MacDonnell Range Holiday Park.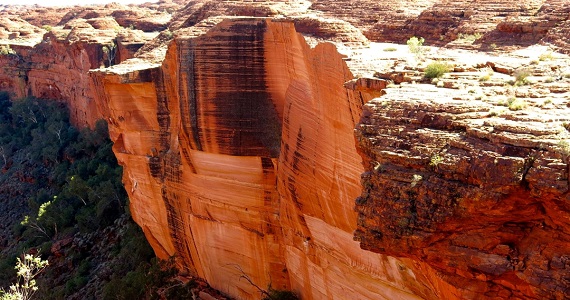 Whether taken in from below or viewed in all its glory on a rim walk, Kings Canyon is well worth a visit.
Walls of China, Mungo National Park, NSW
When it comes to jaw-dropping Australian natural attractions, this crazy creation demands serious attention. Here, nature has carved out crescent-shaped sand and clay dunes so dramatic and mind boggling that you'll be thoroughly absorbed. It's a key feature of the World Heritage Willandra Lakes region, 125km from Mildura, which is famed for its immense cultural significance.
Visit on a daytrip from…BIG4 Golden River Holiday Park or BIG4 Mildura Getaway Holiday Park.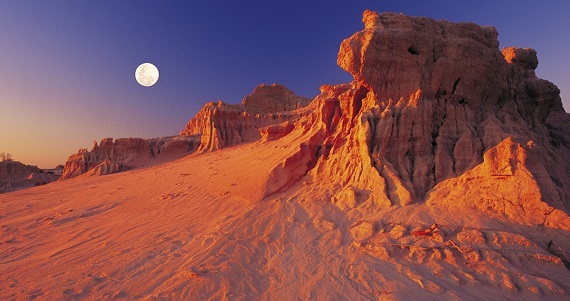 Explore the dramatic landscape around Mungo National Park.
Budj Bim National Park (Mount Eccles National Park), VIC
Largely flying under the radar, the stunning works of the dormant volcano Budj Bim make for engrossing exploration. Rocky outcrops dominate the surrounds and give way to a beautiful crater lake that can be spied from various vantage points. The park is rich with Aboriginal history and culture and warrants plenty more attention than it receives.
Visit on a daytrip from…BIG4 Port Fairy Holiday Park, BIG4 NRMA Warrnambool Riverside Holiday Park, or BIG4 Warrnambool Figtree Holiday Park.
Wave Rock, Hyden, WA
Ahhh, Mother Nature. Haven't you had fun here? Welcome to one of Australia's funkiest natural attractions. Without roadside signage, you could easily pass by this rocky phenomenon without realising you're missing out on a must-visit attraction. Aptly named for its smooth, wave-like carving, this granite cliff stands an impressive 15m high and extends for 110m. It's spotted 330km east of Perth.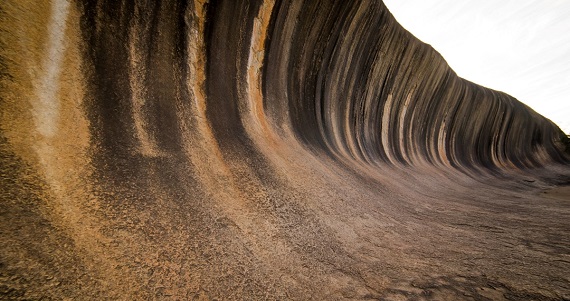 It may not be near the beach, but don't write off this quirky attraction - it will likely be the most interesting wave you've seen.
What is your favourite Australian natural attraction? Have you visited any of these sites and have a story to share? We'd love to get your thoughts in the comments section below.
Isn't it time you enjoyed a nature-based escape? Book your next BIG4 break now.
Reproduced with the permission of BIG4 Holiday Parks. This article first appeared on BIG4.com.au and was republished with permission.

Important:
Any information provided by the author detailed above is separate and external to our business and our Licensee. Neither our business nor our Licensee takes any responsibility for any action or any service provided by the author.

Any links have been provided with permission for information purposes only and will take you to external websites, which are not connected to our company in any way. Note: Our company does not endorse and is not responsible for the accuracy of the contents/information contained within the linked site(s) accessible from this page.